The Dreaming Zebra Foundation is a (501)(c)(3) charity providing support so that children and young adults are given an equal opportunity to explore and develop their creativity in the arts.
Paul Frank Art Supplies Round-Up
Every kid deserves the chance to be creative, and you can help! The Paul Frank Art Supplies Round-Up is our second annual national drive to gather art supplies for school and after-school art programs. The program was dreamed up by Paul Frank Arts, along with pals The Dreaming Zebra Foundation and P.S. ARTS. We're working with Blick stores across the country to round up donations! Donate online or at a Blick store near you!
http://www.paulfrankarts.org/roundup.html
http://www.dickblick.com/ara/lists/2560/home
Art Day Celebration 2013, Carrefour, Haiti
The Dreaming Zebra Foundation is proud to be a sponsor of "Art Day Celebration 2013", and to have helped to provide art supplies to close to 100 children in 5 orphanages in Carrefour, Haiti.
We thank the Art Day Celebration team for for allowing us to be a part of their inspiring mission, and for all that they do to bring creative art programs to underprivileged children in Haiti.
Helping Kids Dream...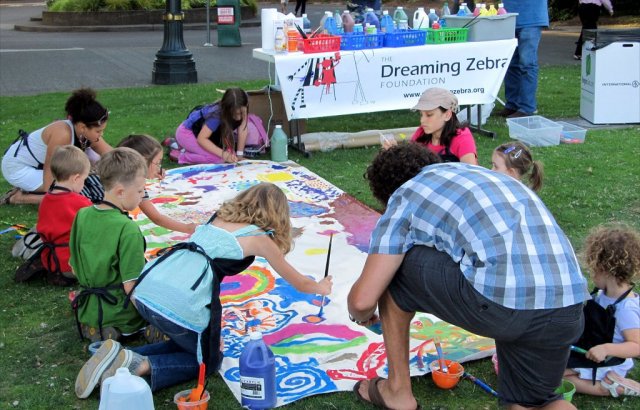 Dreaming Zebra's Community Art Recycling Program provides access to art and music supplies for thousands of children, schools, art therapy programs and community organizations throughout the United States.
In 2012, Dreaming Zebra provided free art supplies, musical instruments, and public art experiences to more than 50,000 young artists -- children who otherwise might not have experienced the joys and benefits of an art education.
Please help us to deliver more art materials to children in need, and keep the shelves stocked, by making a cash donation today to support our minimal shipping and operating costs.
Please click the donation box to the right to help us meet our goal of $10,000 by Dec. 31, 2013.
About Us
The Dreaming Zebra Foundation was incorporated in Portland, Oregon in the interest of promoting greater access to the arts for children and young adults. Our founders recognized a pressing need in many communities for the charitable donation of art and music supplies to support children, schools, and other nonprofit organizations serving youth and the arts.

(Read More)
Community Art Recycling Program



The purpose of the Community Art Recycling Program is to gather gently used materials that can be efficiently recycled to provide arts education for children in need within the community.

Many individuals and business owners are surprised to learn that basic secondhand materials that are often discarded can be used to create an art class for children in need.

(Read More)
Announcements
Dreaming Zebra's Top Choice - "Best Eco-Friendly Pencil"



The results are in and DZF's Top Choice of "Best Eco-Friendly Pencil" for kids is TreeSmart! Why do we love TreeSmart so much? These No. 2 pencils are not only "no-wood" and made of 100% recycled newspaper; they're also non-toxic, affordable, latex-free, and manufactured primarily in the USA; they save forests, help the environment, and educate classrooms about the importance of recycling. And they're fun to write with, too! Kids enjoy watching the newspaper print unroll as pencils are sharpened, and parents and educators love knowing that they're promoting earth-friendly concepts by providing the best-quality, "green" pencil available today.
Use promotional code "DZGreen" at checkout and a portion of your purchase will benefit arts education in local schools! Discount prices are available for schools, teachers and businesses.
Contact This e-mail address is being protected from spambots. You need JavaScript enabled to view it for more information. Join us in protecting the Earth's tree resources! www.treesmart.com